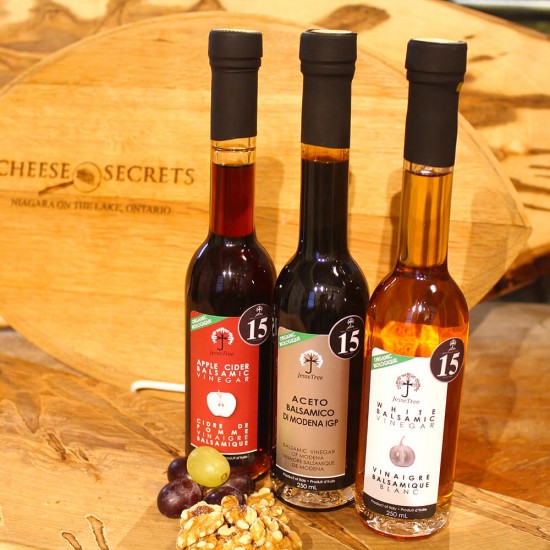 Jesse Tree Balsamic Vinegar Of Modena - Aged 15 Years (250ml)
Jesse Tree Balsamic Vinegar Of Modena - Aged 15 Years (250ml)
Aceto Balsamic, White Balsamic, or Apple Cider Balsamic.
Aceto Balsamico di Modena PGI is produced in the provinces of Modena and Reggio Emilia, in the Emilia-Romagna region. It's obtained from the must of seven typical varieties of grape with the addition of a percentage of wine vinegar.

Production Area: Aceto Balsamico di Modena PGI's production area corresponds to the provinces of Modena and Reggio Emilia in the Emilia-Romagna region. In this area there is an abundance of grapes with just the right concentration of sugars and acidity, namely Lambrusco, Sangiovese, Trebbiano, Albana, Ancellotta, Fortana and Montuni.

Appearance and Taste: It has a delicate and persistent aroma, with an agreeable and harmonic sourness. It has a deep brown color and its smell is lightly acetic, persistent and with possible woody hints. The flavor is well balanced between sweet and sour.

Origins: The practice of cooking the must of grapes can be traced back to the ancient Romans. Starting in the 11th century, the production of this very particular vinegar was linked with Modena: many documents confirm that this vinegar was usually produced, in the XVI century, in the court of the House of Este's duke. Starting from the XIX Balsamic Vinegar of Modena (Aceto Balsamico di Modena) began being appreciated and known abroad: it was presented in the most important exhibition events of the time, from Florence to Bruxelles. It was in this period that the production processes were codified.

Production: To the grape must, that can be either fermented, cooked or concentrated, are added wine vinegar, in the minimum amount of 10%, and an amount of at least 10-year-old aged vinegar. The minimum percentage of grape must is 20% of the total quantity of the product to be sent to processing. The product is concentrated through pressing and cooking and is transformed with the traditional method of slow acidification, with the use of selected bacterial colonies, in wooden recipients. The minimum maturation time is 60 days. If the phase lasts over three years, the finished product can boast the "aged" classification (Aceto Balsamico di Modena PGI Invecchiato).

Gastronomy: Aceto Balsamico di Modena PGI is extremely versatile: it's a perfect condiment for various products and dishes, such as cheese, pasta, meat, fruits. Its strength lies in its being able to harmonize and balance the specific characteristics of each ingredient of a dish. In order to preserve its characteristics, it has to be stored in a closed container in a cool, dark place, not exposed to direct sunlight.

Stock:

In Stock

Model:

Jesse Tree Balsamic Vinegar Of Modena - Aged 15 Years (250ml)